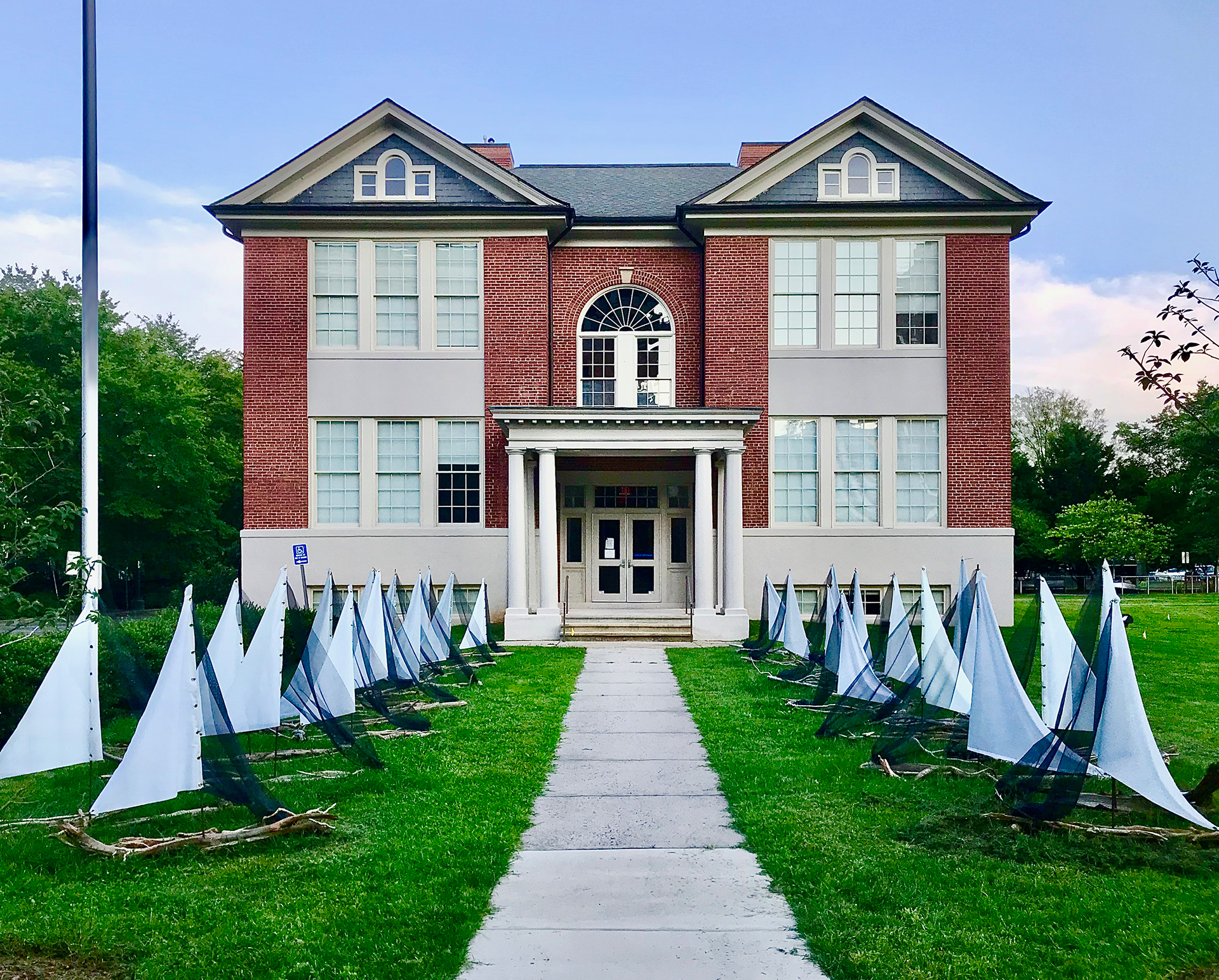 Artist Talk: Saturday / September 26 / 2pm*
The artist talk will take place on the front lawn of Arlington Arts Center. Visitors will be asked to wear masks and maintain a safe six-foot distance from one another during the talk. Any updates about scheduled events will be posted to 
www.arlingtonartscenter.org
.
This project will transform the lawn of
Arlington Arts Center
into a conceptual body of water hosting approximately (26) representations of wooden slave ships. The wooden hulls of the ships will be formed from driftwood collected from (private) lands adjacent to the Potomac River and Chesapeake, and outfitted with sails that collect solar energy during the day, glow at night, and rotate to follow the wind's direction.
This site specific project was conceived through researching Arlington Arts Center and its location in the former Maury school. The institutions namesake, Matthew Fontaine Maury (January 14, 1806 – February 1, 1873), was a native Virginian astronomer, historian, oceanographer, meteorologist, cartographer, author, geologist, educator, United States Navy officer, and Chief of Sea Coast, River and Harbor Defenses for the Confederacy. However, Maury was not a proponent of American slavery. Instead he favored relocating slaves (and their owners, if desired) to the Amazon, and sent a crew there to map the river and determine if his plan was feasible.
Maury was nicknamed "Pathfinder of the Seas" and "Father of Modern Oceanography and Naval Meteorology". He made many important contributions to charting winds and ocean currents, including ocean lanes for passing ships at sea. His navigation innovations were used by ships in the nineteenth century carrying among other things, slaves, in order to expedite their cargo to market. The African Diaspora saw more than 12 million people captured, loaded onto sailing ships as cargo, sold to landowners in the West Indies, and ultimately transported and resold in what is now the United States. Some who made it here to Virginia and Maryland via the Chesapeake Bay and the Potomac River are my descendants.
The Passage installation is part of a larger conversation on race and human relationships. This project address power dynamics, conflict, loss, marginalization and deterioration. It addresses a cultural history where certain communities have been displaced, erased, or aren't recognized. My artistic intent is to create an evocative experience that allows for layers of interpretation and personal meaning. My goal is to develop and produce a work that will challenge the viewer's notions of transcendence, thus allowing a transformation of perspectives into something completely different, and possibly, reveal a deeper understanding into our own humanity.